On July 22, 2022, from 9 a.m. to midnight, the Journal du Coin and Onlydust are offering a conference in partnership with Starkware. An event dedicated to Starknet, to its abilities, and which will celebrate its thriving community. On this occasion, 400 people will be able to get to know the Ethereum layer 2 project better. A solution that puts scalability and anonymity back at the heart of blockchain technology.
Starkware visits the Parisian crypto community
In short, Starkware is a second layer solution based on the concept of zero-knowledge proofsbetter known as zero-knowledge proofs or ZKP. A complex cryptographic tool that facilitates scaling and restores the privacy of its users' data. The company recently made headlines with a $100 million fundraiser. She wore her global valuation at more than 8 billion dollars. The technology is already used by big names in the crypto ecosystem. We can cite here Sorare, dYdX or ImmutableX.
Thus, on July 22, the Journal du coin gives an appointment to all the Starkwave community at Comet Bourse in Paris Centre, for a conference in three phases. 400 seats will soon be on sale. 120 exclusively for developers, and the remaining 280 open to all profiles. For the smooth running of the day, and more particularly of the workshops, it is important that only real devs buy the places reserved for them. In addition, if you are not comfortable in the language of Shakespeare, it is important that you know that all scheduled talks and activities will be held in English.
A technological ecosystem with unsuspected capabilities
For the lucky ones who will get a place, the list of speakers is not yet finalized. But most of them are already known. There are pillars of the company starwareaccompanied by many blockchain and crypto specialists from France and elsewhere.
The aim of the conference is to be as universal as possible, but the complexity of the themes that will be addressed nevertheless implies the need for an intermediate technical background. If you are a neophyte, don't waste your time or your money, because talking about Stark proofs for 9 hours is a somewhat demanding exercise. Indeed, having an idea of ​​the problems of scalingEthereum, infrastructure concepts, proof of stakes and ZK rollup will be of great use to you. By way of example, here are some examples of the topics that will be covered
To complete the panel, the conference is sponsored by many major players in the ecosystem Starknet. Thus, the various topics explored will benefit from the expertise of these professionals in their fields of competence:
On-chain gaming with BriqDeFi, Astraly, ZKX, Alpha Road
Governance with SnapshotWallets
User experience with Argent and Ledger
A list that is far from exhaustive.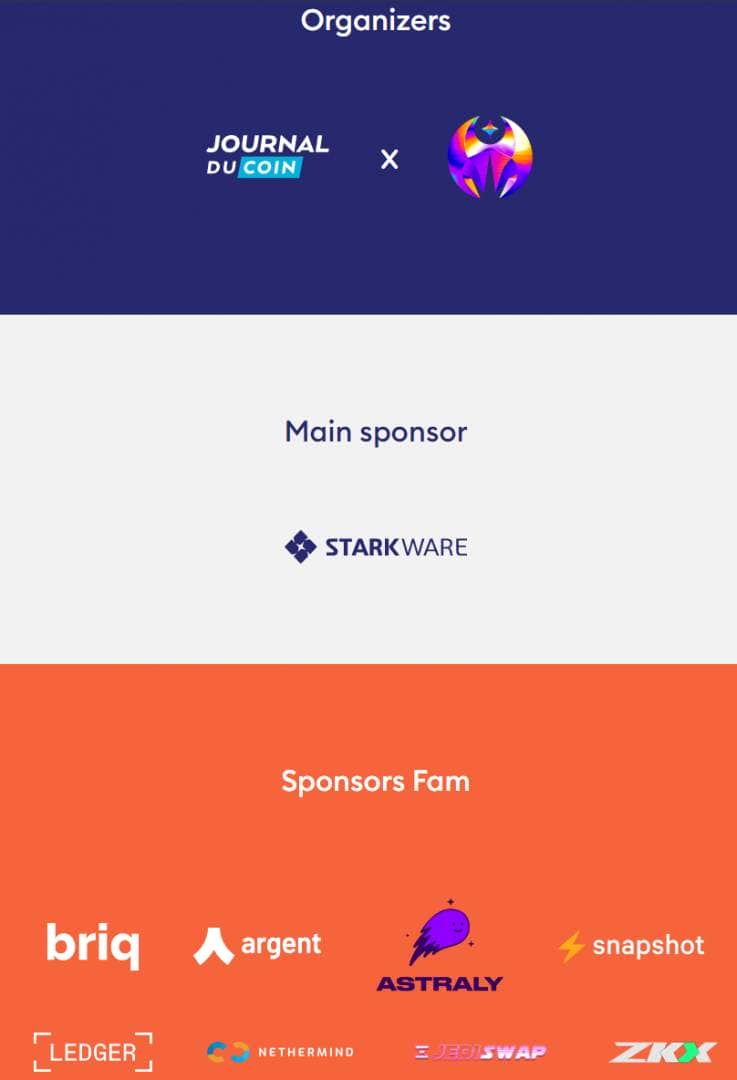 The ticket office will be open on Thursday July 21 at 6 p.m. directly on the site starknet.cc . A live on the JDC twitch channel will be launched to announce the thing at 5:30 p.m. Places for phase 1 will be at 25€, those for phase 2 at 39€ and those for phase 3 called workshops will be at 79€. Again, they will be reserved for developers. To make sure you don't miss any future conference updates, go to Starkware TG.