Bitcoin makes life look rosy – After the Bitcoin City in El Salvadorhere Sangothe Crypto Island of the Central African Republic. It is one of the many projects included in the development prospects offered by the adoption of a "Bitcoin Law" favorable to cryptos in the Central African Republic. His government wants to make the country a continental center of the cryptosphere.
"Sango Project" to Accelerate Crypto Adoption in Africa
Just over 7 months after El Salvador made Bitcoin (BTC) legal tender, it's the Central African Republic who has, in turn passed a law making cryptocurrency legal tender, April 21, 2022.
On May 24, the Central African President, Faustin-Archange Touaderarevealed, on his Twitter account, the first stone of the crypto-edifice that the country intends to build: the project Sango. This government initiative already has its site presentation at the address sango.org.
"Following the unanimous adoption by the National Assembly of the status of legal tender for Bitcoin, we are pleased to present the first concrete initiative to you. It goes beyond politics and administration, and has the potential to reshape the Central African Republic's financial system. (…)"
The Central African Republic: soon the "Bitcoin hub" of the African continent?
In the presentation document of the Sango project, we can thus read that one of its first objectives is to:
"(…) build directly, in the heart of Africa, the first legal business center relating to cryptocurrencies, recognized by the Parliament of a country, which will welcome crypto-businesses and attract crypto-enthusiasts from all over the world. »
In addition to that, we discover there a pharaonic project of futuristic crypto city, in the same vein as the Bitcoin City presented by President Nayib Bukele in El Salvador. Here it is a "Crypto Island". As we can see on the first visual below, and knowing that the Central African Republic is a country without maritime access, it seems that the Crypto Island will be built along a river.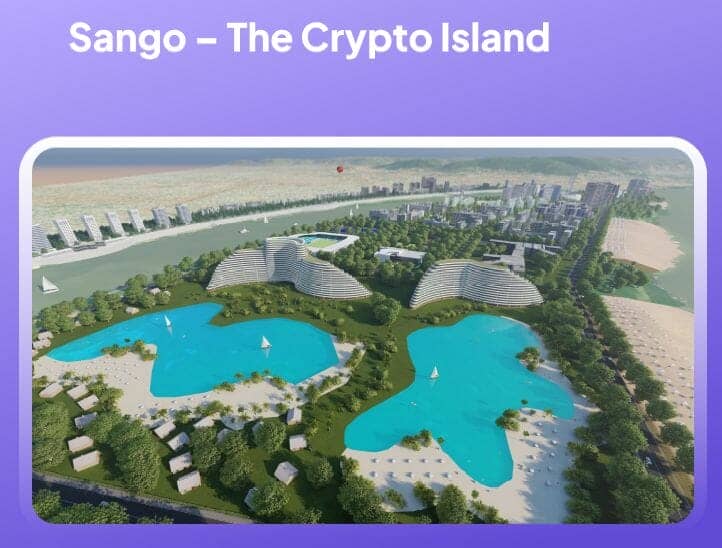 The case of the Central African Republic is not isolated, because the emerging countries increasingly seem to want to organize their economic future, with the help of Bitcoin and cryptocurrencies. Last week, bankers and financial authorities from 44 developing countries discussed Bitcoinat an international summit on financial inclusion, hosted by El Salvador.
The time for regulation has come, and with it the time for uncertainty. It is ESSENTIAL to make your stablecoins work safely. Earn interest with your USDC on Kucoin Lending (affiliate link).