"But yes, but yes zé bien vu un [NFT] romp! » – After Disney and its partnership with VeVe for the launch of non-fungible tokens (NFT) bearing the image of the license's key characters, it's Warner Bros' turn to take the plunge into NFTs. Indeed, thanks to a partnership with the Nifty's marketplace, Warner Bros will revive the Looney Tunes. This new digital version promises to be as fun as ever!
What's new for Looney Tunes?
Who doesn't know Looney Tunes? This animated short series which has marked the generations since its launch by Warner Bros. in the years 1930. On June 2, 2022, Warner Bros announced its partnership with Nifty's to put the Looney Tunes characters back in the spotlight.
Indeed, Warner Bros has decided to release a collection of NFTs titled " Looney Tunes: What's up Block? ». They will be used to create a new story adventures of franchise characters like Bugs Bunny, Daffy Duck and Taz the Tasmanian Devil, to name but a few.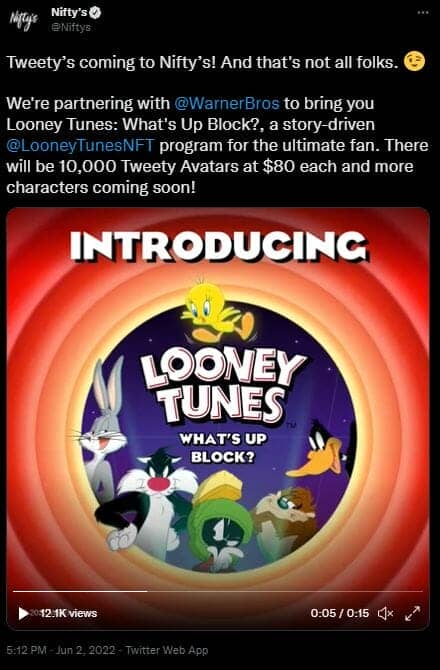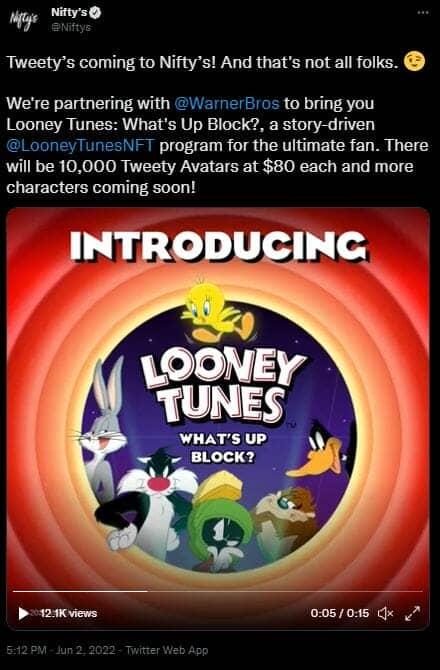 At first, it is the character of Tweety (Titi for the French version) who will be honored to celebrate his 80th birthday. Thereby, 10,000 NFT Tweety will be offered for sale at the price of $80. The leader of Warner Bros was delighted with this launch of this collection:
"Today, as digital engagement and technology evolve, the Looney Tunes collection will further expand the reach of the franchise, bringing together fans around the world, delivering unique experiences, building communities, storytelling and a whole new way to engage. And what better way to kick things off with Tweety as his 80th birthday celebrations continue! »
Additionally, the NFTs in this collection will be minted on the Palm blockchain.
NFT announcements will take place throughout June 2022
First, the pre-sale of NFT Titi will open on June 20, 2022 and the public sale the next day. Next, further announcements about the release of Looney Tunes series character NFTs will take place starting June 23.
Warner Bros has already stated that the NFT Looney Tunes program will allow fans "to participate in fun activities and games as the story unfolds (…) while earning rewards and benefits along the way ".
Regarding these benefits and rewards, the production company has indicated that there will be the following lots:
Special access to Looney Tunes merchandise;
Access to virtual meetings;
New content;
Preferential prices on certain NFTs in the collection.
The NFT Looney Tunes collection is the third collaboration obtained by the NFT-focused platform, Nifty's. We will quickly see how successful this collection is.
Do the NFTs of Titi, Sylvestre or even Daffy catch your eye? Start by buying some ether. To do this, register now on FTX, the leading crypto exchange platform. You will benefit from a lifetime discount on your trading fees (affiliate link, see conditions on official website).