The great maneuvers in the 10ᵉ art – The field of video games has been booming for several years. Mobile games, virtual reality, metaverse, play-to-earn, NFT or Web3, all these concepts have revolutionized a practice that no longer concerns only a few teenagers in their room. Millions of dollars are pouring in, companies are sharpening their weapons and the blockchain is opening up gigantic prospects. Animoca Brands and Square-Enix are two big names in the NFT and gaming and they just announced a collaboration for 2022. Chronicles of an Arranged Marriage.
A marriage of convenience between two giants…
The Japanese video game giant Square-Enix recently released its quarterly results – "Q1 earning report" in economic jargon. In this document, the holding company – among other things – franchise Final Fantasy details its areas of investment for the coming year. And these are the NFT who are at the heart of the project. Indeed, after the success of the game Shi-San-Sei Million Arthurthe creators of DragonQuest and Kingdom Hearts want to invest even more in NFTs and extend them to a large part of their catalog.
And to do this, they have just announced a partnership with Animoca Brands. Does it ring a bell ? And if I tell you The Sand Box ? Or Axie Infinity ? NBA Top Shot ? Always nothing ? What if I tell you Disney, World Wrestling Entertainment or The Walking Dead? Or Snoop Dogg, Moto GP or Power Ranger? Yes, you have understood it, it is a giant not only from the NFT sector and the intellectual propertybut also mobile video games and play-to-earn.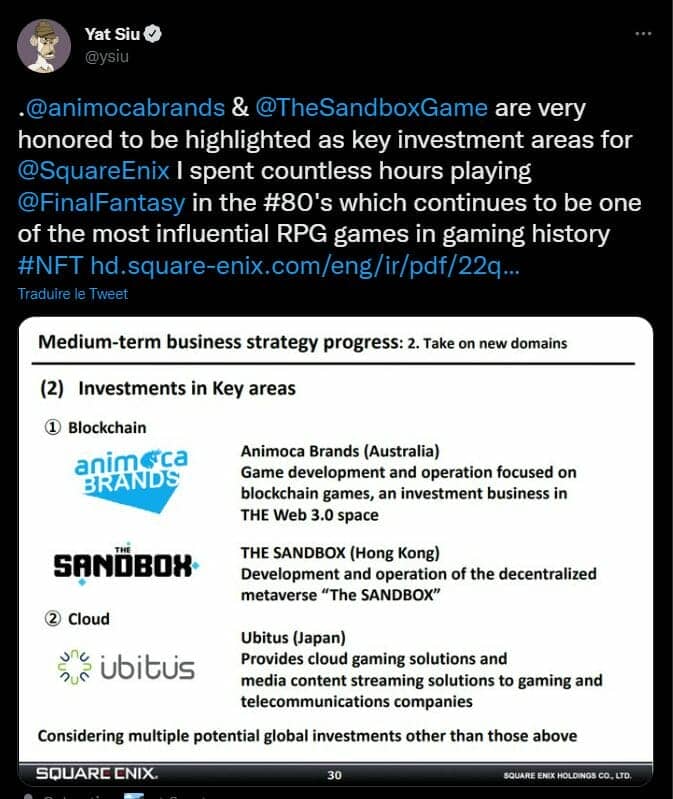 …to conquer Web3 and gaming NFTs
Sqaure Enix thus plans to use the skills of Animoca Brands in terms of Web3 and of metaverse to develop their own industry. On the agenda: establishment of a regulatory framework clear to continue marketing NFT products. But there is also the creation of a venture capital subsidiary to invest in other projects in the sector. And finally, they envisage the creation of an entity abroad which would deal to issue, manage and invest [leurs] own tokens ».
Speaking to Cointelegraphthe executive chairman of Animoca – Yat Siu – said about the partnership and the future:
"Square Enix has been talking about the potential of blockchain-based games for a long time. They are therefore better placed than most traditional video game giants. »
Both companies have converging interestsExplain Square Enix CEO – Yosuke matsuda – in its quarterly presentation. The axes of common development revolve around the monetization of the blockchain, artificial intelligence and the cloud computing. the ultimate goal ? Create the first video game based on these technologies, which will be very general public and massively multiplayer. And this, while mixing the concepts of play-to-earn and NFTs. And all served by "high quality graphics for a good gaming experience".
It is Dino Tomic, an artist working in particular for Square Enix, who explains to us that the one who will succeed will be the big winner of the sector. The race is on between all the players in the ecosystem to be the better positioned in this emerging market. And when we see the millions of dollars which are lifted each week, we say that the competition promises to be fierce. At your controls… get set, go!
When the funds are interested in a sector, it is generally a very good track to follow for your investments! To not miss the opportunity of a lifetime, register without delay on the FTX reference crypto exchange platform and benefit from a lifetime discount on your trading fees (affiliate link, see conditions on official website).