And one more crypto-enthusiast – Just 4 months ago, the singer Kanye West had affirmed his disinterest in non-fungible tokens (NFTs) with his clear statement: "Don't ask me to f***** NFT". However, this month, the self-proclaimed living god seems to have change of opinion.
Kanye West is quietly preparing his entry into NFTs and Web3
On June 1, 2022, the American lawyer specializing in trademark and intellectual property law, Josh Gerbendiscovered trademark filing YEEZUSin different product categories, by Kanye West. It should be noted that YEEZUS was the album name released in 2013 by West as well as the name of one of his tours.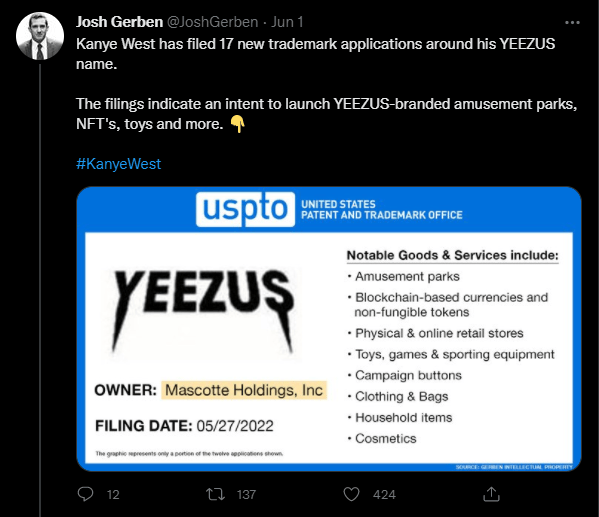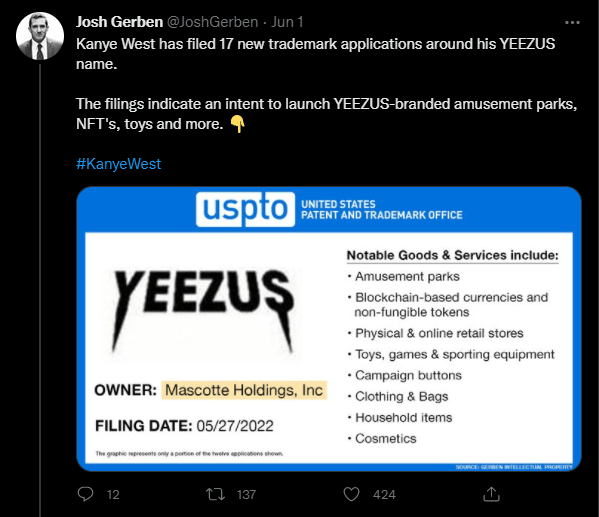 The YEEZUS brand has been the subject of several depositson May 27, 2022, at the United States Trademark Office, in particular in the categories following:
Non-fungible cryptocurrencies and tokens;
Online and physical commerce;
Toys, games and sports equipment;
Clothes and bags;
Cosmetics.
From then on, things are now clear: Kanye West is preparing his entry into the world of NFTs, even from the metaverse, with the deposit of YEEZUS. Indeed, the description of the deposit in the categories of cryptos and NFT is explicit:
"To provide an online marketplace for buyers of collectibles, currencies, tokens, and crypto and digital assets. »
In addition, the filing mentions the "non-fungible assets" and the "metaverse experiences". However, the descriptions remain sketchy and do not go into detail as to the type of NFT or metaverse that Kanye West wishes to develop.
Finally, this quick change of mind of Kanye would he not demonstrate his fear of missing the train of NFTs and the metaverse? Indeed, some of its counterparts, like Snoop Dogg, have already taken the plunge. Moreover, the latter is fully involved in the ecosystem with the creation of several NFTs and its collaboration with The SandBox.
You have the right to understand nothing about the NFT trend. No need to use outrageous language, however. On the other hand, not being interested in Bitcoin is unforgivable! Don't wait any longer to prepare for the future. Register now on the FTX reference crypto exchange platform (affiliate link).