The Sandbox is diversifying – Playboy rebuilt an emblematic place of the magazine on the lands of The Sandbox. The goal? Offer new forms of experience in the web 3 to his fans.
Hef's legacy in web 3.0
The Sandbox welcome a charming new resident on his land. Bunnies, in a pixelated 3D version placed on either side of the portal, welcome visitors to the virtual version of the playboy mansionthe MetaMansionwhich will be rebuilt in the metaverse.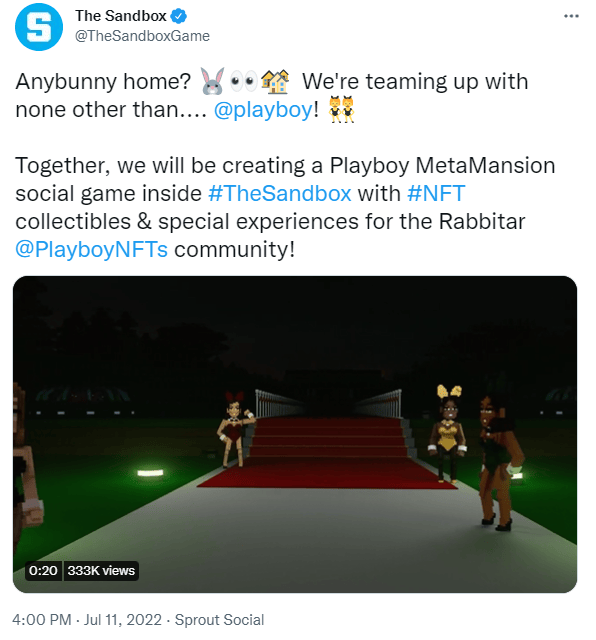 Countless crisp anecdotes, which would scratch the ears of the rigorous, have marked the history of the Los Angeles mansion. It has also become a place that has become mythical, a den of vice for some, a place of liberation from Puritan shackles for others.
The MetaMansion may not spark as many fantasies as its physical equivalent. The virtual mansion will however have the opportunity to make a name for itself, through the events and games, which will be organized there. He thus retains this role and this spirit of "place of refuge" of the Playboy community, but in an emerging web 3.0.
Playboy will also use the MetaMansion to organize future launches of collectables NFT of the company or to offer exclusive experiences to holders of Rabbitars NFTwhich are made up of 11,953 tokenized rabbit avatars, unveiled in October last year.
Playboy, lever of virtual real estate
"Playboy is iconic for its charm, lifestyle and entertainment content that has transcended generations. »

Sebastien Borget, co-founder and COO (chief operating officer) of The Sandbox
The Virtual Mansion isn't just good for Playboy business. It also increases the value of its neighboring landwhich will be available at sale during this third trimester.
The Sandbox should be able to make a good fortune from this future sale of LAND, referring to the purchase for $450,000in December of last year, from a neighboring plot of Snoopverse by Snoop Dogg in the metaverse.
The Sandbox continues to growattractiveness of his worldby setting up famous brands on its land or by embarking on daring projects, like the creation of a district inspired by Times Square on virtual land owned by TIME.
Ready to embrace new adventures in the metaverse? First add some cryptocurrencies to your wallet. Register now on the LiteBit platformyou will receive €20 as a welcome gift (affiliate link).