Vitalik does a little retrospection – It has now been 9 years since Vitalik Buterin, the co-founder of Ethereum (ETH), has been involved in the crypto ecosystem. Even before creating its network, it was already strongly committed to Bitcoin (BTC). On the occasion of the new year, he looks back on the predictions he has made since arriving in the ecosystem.
Buterin's predictions on Bitcoin
In 2013, when he arrived in the crypto ecosystem, Vitalik Buterin was extremely involved in the network Bitcoin. Few will remember that he started his career as a content writer for a blog dedicated to bitcoin. As part of this blog, he shared many predictions. For the new year, our man reconsidered these predictions via a thread Twitter.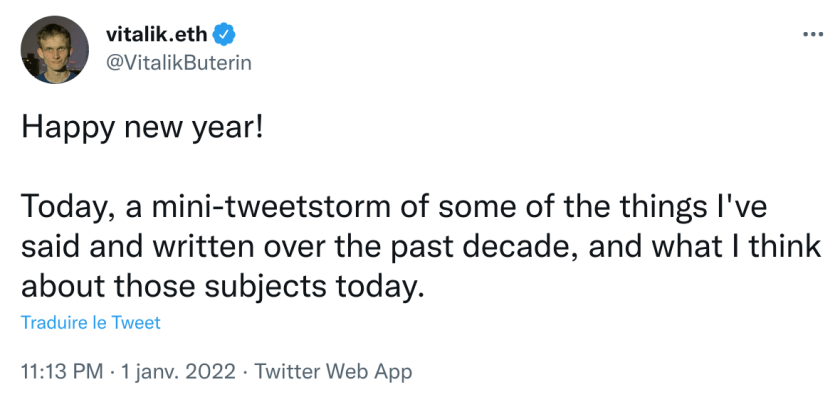 Buterin begins his thread by going back over his predictions for Bitcoin. Initially, Vitalik predicted a adoption bitcoin in countries with weak fiat currencies, such as Argentina or Iran. This also pointed to the logical evolution of stablecoins. 9 years later, this prediction seems to have been relatively correct.
"Last week I went to Argentina. My verdict: generally correct! Adoption of cryptocurrencies is high, but so is that of stablecoins. Many companies operate in USDT. But of course, if the USD itself starts showing more problems, that could change. "

Vitalik Buterin
In 2013, Buterin also explored the consequences of a "Increased regulation of bitcoin-related services". At that time, our man felt that BTC would resist governments by being technologically incensurable, not by placing itself in an asset class in a legal manner. An opinion that has since evolved.
"Of course, decentralizing Bitcoin would still allow it to 'survive' in a super hostile regulatory climate, but it might not 'thrive.' A successful censorship resistance strategy requires a combination of technological robustness and public legitimacy. "

Vitalik Buterin
What about Ethereum?
After his involvement in Bitcoin, Vitalik Buterin co-founded the network Ethereum. Once again, the years of development brought many predictions, which did not always come true.
First, Vitalik admits to having royally deceived with regard to the deployment deadlines ofEthereum 2.0. A photo of his 2015 presentation on proof of stake and sharding deployment times shows a very bad estimate development times.
"Honestly, these were very wrong and it's worth laughing about. I'm going to share a screenshot of one of my presentations from 2015 so that everyone can laugh more easily. "

Vitalik Buterin
Buterin admits having greatly underestimated the development complexity IT solutions imagined at that time. From now on, the developers of Ethereum 2.0 make it a point of honor to promote simplicity, both in design and in implementation.
He also could not miss his famous remark of 2015: "Internet currency should not cost more than 15 cents for a transaction". An assertion that he continues to support, explaining that this remains the guideline for Ethereum, thus justifying the switch to Ethereum 2.0.
Finally, the Ethereum dad goes back to the predictions made during the drafting of the whitepaper, concerning the typical applications that we would encounter on Ethereum.
In this regard, Vitalik was rather far-sighted. Indeed, he predicted that the Challenge would know a lot of success by anticipating the following applications:
ERC20 type tokens;
Algorithmic stablecoin;
Domain name systems (such as ENS);
Decentralized file storage and computing;
DAO;
Portfolios with withdrawal limits;
Oracles;
Prediction markets.
A great way to start 2022, especially with the imminent arrival of Ethereum 2.0. Indeed, the first community testnet of the transition to proof of stake at the end of December 2021, with deployment on the mainnet estimated in the first quarter of 2022.
Whether you are a fan of Ethereum, Bitcoin or one of the cryptocurrencies that inhabit the market, it is essential that you have an account on Binance, the major player in the trading ecosystem (affiliate link)