FIFA scores a goal – The Federation registers its brand in the metaverse, with a view to bringing the physical objects that shape the experiences of the 2026 World Cup into the virtual world.
FIFA leaves its mark on the metaverse
A July 20 post from USPTO-certified trademark attorney Mike Kondoudis confirms the growing and real interest of FIFA, for the virtual and the web3. The image attached to the tweet, reveals that the organization made a trademark registration for the metaverse, on July 14, in view of the 2026 World Cup.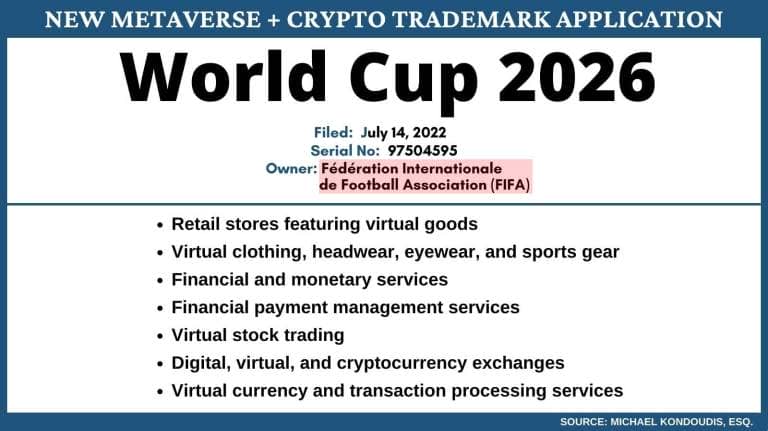 The publication further provides further details on the various physical items, which the Federation could bring into the virtual world: retail stores that would market or offer for free under certain conditions, virtual goods, clothing, helmets, glasses , and virtual sports equipment.
The products derived from the 2026 World Cup, therefore, seem to be on the road, to land in FIFA affiliated outlets in the metaverse.
The filing shows, however, that the areas of interest of the organization in the web3, go beyond the simple marketing and commercial framework, and also relate to specific financial services: monetary and financial services, virtual stock trading, cryptocurrency exchangesetc.
FIFA is leaving more and more traces of its cleats on the lawn of web3. She had announced the conclusion of an agreement of partnership with the Algorand blockchain (ALGO), in May this year. Through this collaboration, the platform will help the federation to develop its "digital asset strategy", and could thus support it in the development of its own NFT collection.
Earlier, in March this year, Crypto.com announced that it will be the official sponsor of the next World Cup in Qatar. The collaboration has mainly a commercial dimension, but given the importance of the event, FIFA offers to the crypto exchange, and indirectly to the whole industry, visibility to billions football enthusiasts.
Football is one of the sporting disciplines that understood quite early the interest of blockchain and cryptocurrencies, to create new forms of experiences for fans. FIFA is thus preparing its entry into the metaverse, following in the footsteps of renowned clubs like the PSG.
And you? Have you made your choice ? Finally make this important decision for your future. Start earning Bitcoin regularly now thanks to Bitstack… while earning €5 worth of BTC for free using the code JDC5 (commercial link)!