The crypto-doggie goes electric – Elon Musk and his company Tesla blew hot and cold like never before on the cryptosphere in 2021. Indeed, after accepting bitcoins (BTC) to buy his electric vehicles, the billionaire had reconsidered his decision. Today, Dogecoin (DOGE) is appearing on the Tesla store, but there is a but…
Elon Musk makes the Shiba roar by accepting it on the Tesla shop
The whimsical billionaire Elon Musk promised in mid-December 2021 that it would soon allow "purchasing Tesla merchandise" in Dogecoin. And just 1 month later, thing promised, thing due: Elon Musk has just announced this January 14, 2022 that the DOGE lands on the Tesla store.
"Tesla merchandise can be purchased with Dogecoin. »
However, as we had anticipated from its previous announcement in December (and a little mocked when speaking of perfume trees for car), the CEO of Tesla only authorized the purchase of a few rare derivative products, not its high-end electric vehicles.
However, a "Tesla vehicle" can be purchased in DOGE!
Good players, we must however recognize that Tesla does authorize the sale of an electric vehicle in Dogecoin: the quad for children "Cyberquad", for the modest sum of 12,020 DOGE.
Either in the vicinity of $2,400, since Elon Musk has – Like he usually does – pumped the DOGE award with his tweet. The iconic Shiba crypto indeed briefly rose to $0.2 each immediately after the announcement.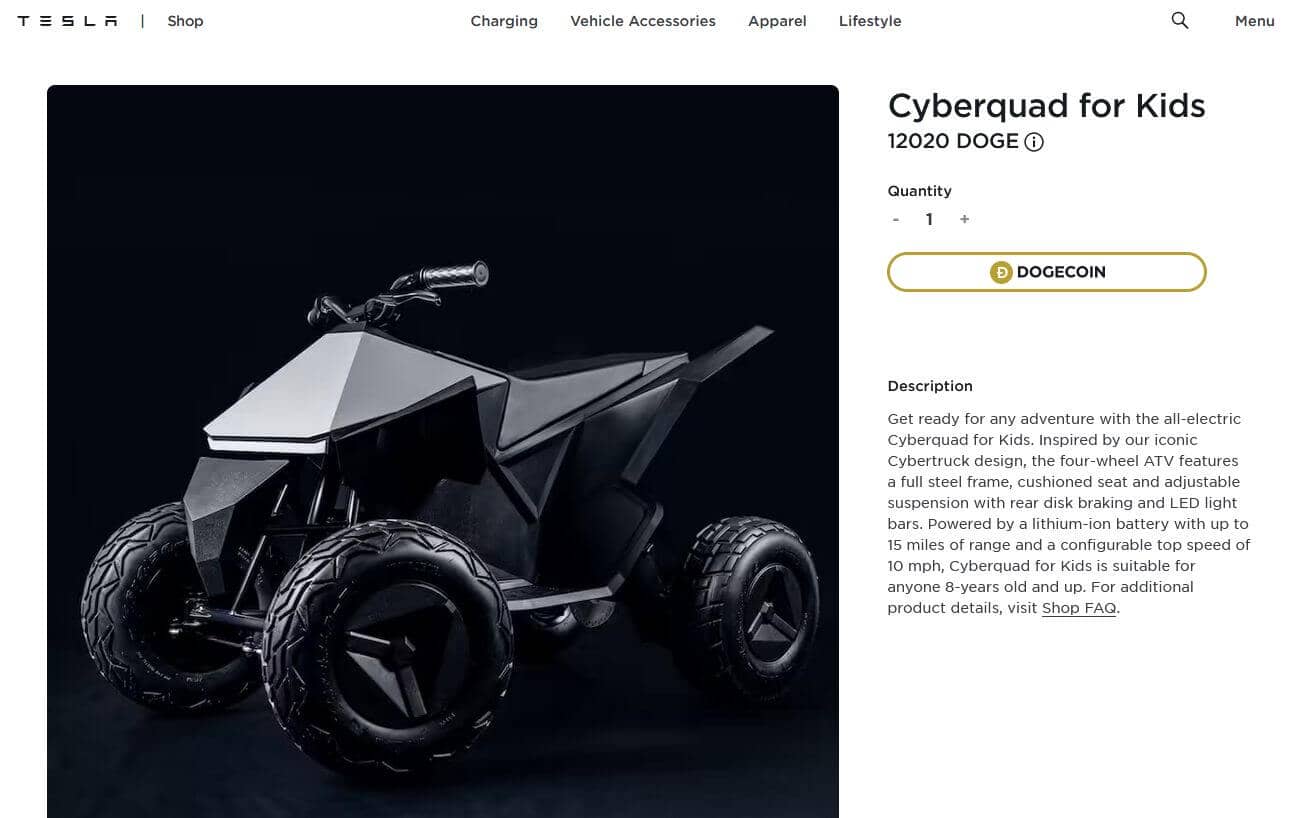 But otherwise, there doesn't seem to be much else purchasable in Dogecoin. Even if our research was not necessarily intended to be exhaustive, after a few minutes, we only found these two other objects payable in crypto-toutou: a "Texas" belt buckle, and one "cyber whistle", for respectively 835 and 300 DOGE ($167 and $60).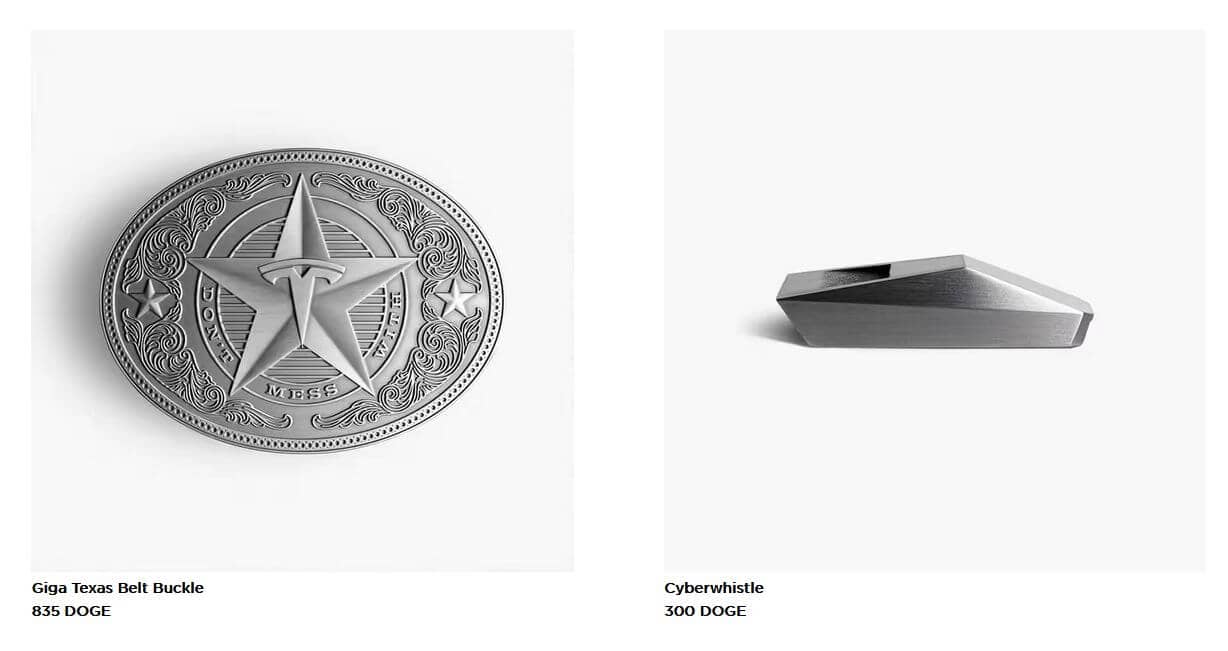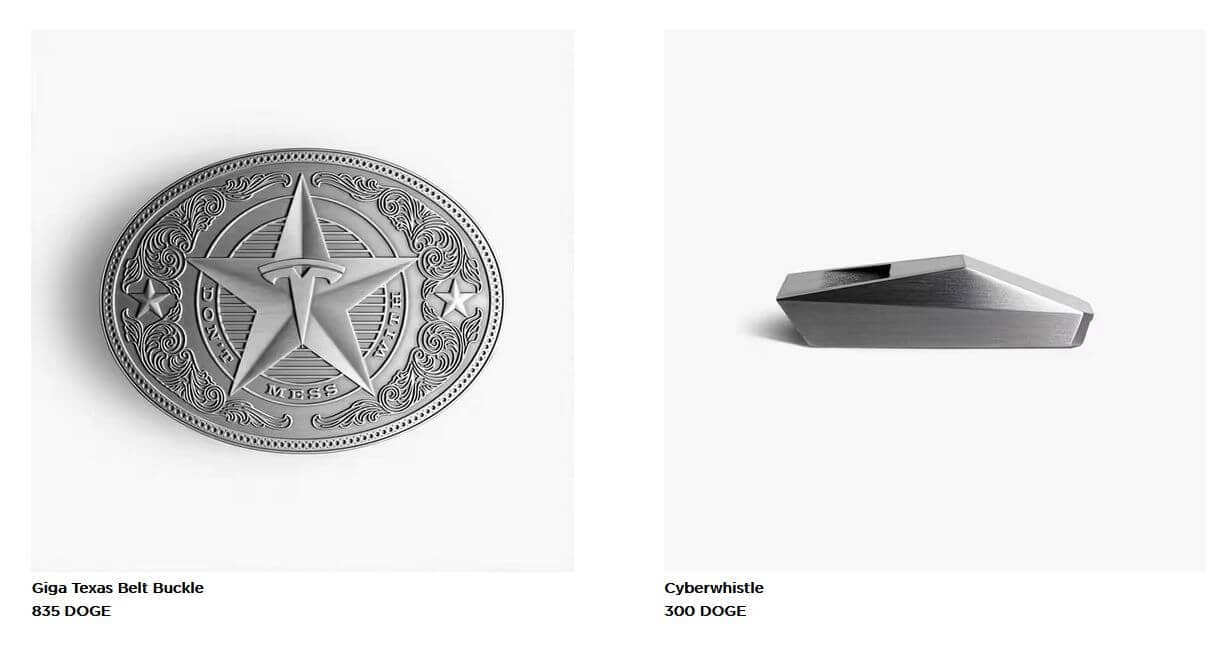 As stated in the Terms of Purchase "Tesla only accepts Dogecoin" at this time. But we can hope that one day or another Elon Musk will come to his senses, and end up accepting Bitcoin again to buy (real) Tesla cars, as he already did from the end of March to mid- May 2021.
These cute Tesla trinkets make you want toacquire some dogecoins ? To buy them easily, register on the KuCoin platform and start trading your DOGE or other cryptos today! (affiliate link)