earn stars – Cometh is not only a second-layer decentralized exchange (DEX) that allows trading ERC-20 tokens very quickly and at low cost. In effect, ComethSwap sits atop the Cometh ecosystem, which includes a blockchain game powered by decentralized finance (Challenge) and the NFT.
ComethGame raises 10 million for the future of blockchain gaming
On May 5, 2022, Cometh announcement the successful completion of its round of seed funding in the amount of $10 million. The fundraising was led by the venture capital firm White Star Capital as well as by the decentralized autonomous organization Stake Capital. Additionally, other venture capitalists, such as Serena and Shima Capitalparticipated in this financing round.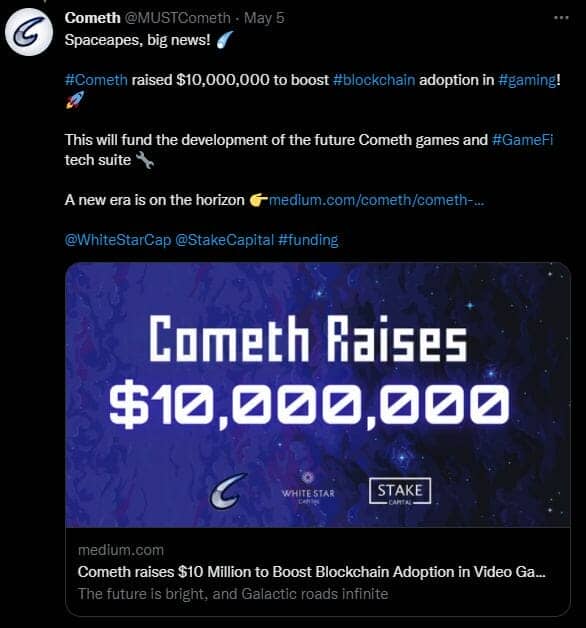 These funds will be used to develop the future of blockchain games ComethGame as well as for the deployment of its blockchain software suite in the video game industry. The founder of ComethGame, Jerome of Tycheysaid:
"We will showcase other games, both Cometh Battle related and some not, followed by innovative ideas on how blockchain can be used in games. »
Cometh's press release states that they received a huge interest from major game studios about technology integration blockchain in the video game industry. Thus, Cometh announced that several video games and collaborations should emerge in the coming months.
The metaverse industry, but also blockchain games, is a great success this year. To name just one, the electronic chip manufacturing giant Qualcomm created last March a fund of $100 million to invest in companies metaverse.
Are you in the direction of the trend or rather against the current? If blockchain games leave you cold, register quickly on KuCoin and discover Cloud Mining's latest offering to make crypto income the easy way (affiliate link).