volumes – Bitcoin (BTC) price loses $20,000 again. Are the markets heading for another local low for this cycle?
This Bitcoin price analysis is brought to you in collaboration with the Coin Trading and its algorithmic trading solution finally accessible to individuals.
Bitcoin Below $20,000: Flat Speech, Downside Pressure on Risky Assets
Bitcoin price drops to around $19,740 on Bitfinex today, June 22, 2022. Cryptocurrency trades at $19,847 at the time of writing this article. Its price is currently recording a daily loss of 5.39%.
This loss of $20,000 comes hours after Federal Reserve Chairman Jerome Powell spoke to Congress.
Jerome Powell did not announce any new measures, which would therefore not already be known, against inflation. He simply confirmed that the Fed will most likely continue to raise interest rates.
"We expect continued rate increases to be appropriate; the pace of these changes will continue to depend on incoming data and the changing outlook for the economy."
However, this type of discourse seems continue to penalize risky assets like Bitcoineven before the next rate hike takes effect.
Whales in the balance: towards a gradual, and not immediate, bullish recovery for the price of Bitcoin?
This drop in Bitcoin price below $20,000 is testing the strength of the new support at $19,174. The whales were there accumulated more than 133,000 BTCwhen Bitcoin lost $20,000 on June 18, 2022. This support now has to contend with pressure from selling whales.
Data from Glassnode indeed indicates, that these large wallets sent on June 20 and 21, 2022, more than 50,000 BTC on cryptocurrency exchanges.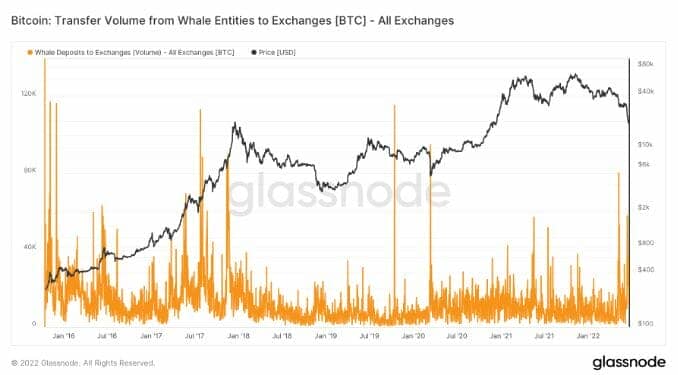 But although this figure seems relatively high, the daily inflow of Bitcoin to crypto platforms actually remains lower to levels seen in the past.
For comparison, the whales, for example, sent more than 90,000 BTC on May 9, 2022, well before the Bitcoin price returned to $20,000.
At this stage, what can the behavior of whales in the markets tell us? An increase in Bitcoin accumulation below $20,000, increases the likelihood of a bullish reversal beginning.
In addition, a gradual decrease in whales' daily deposits on the exchanges is also a favorable sign for bulls.
Given this encouraging data, had the price of Bitcoin then bottomed out on June 18, 2022?
A floor price still not found: the fault of weekly volumes
Traders seem to be expecting a lower floor price, despite the formation of this new support above $19,000. This bearish outlook is due to the level of volumes during the recent bullish rally.
The trader Rekt Capital also mentions a volume " very small and dominated by sellers during this rebound.
To better understand the current context, he shared a chart to illustrate his analysis based on trading volumes and the 200-week simple moving average.
He recalls that the previous ones bottoms during bear markets saw a significant increase in selling volumes. This event is then "followed by above-average buying volume the following week".
In the current scheme, the markets fulfilled only one of these conditions. They were indeed treated to extreme sales volume last week. On the other hand, the buying volume this week is "significantly below average". Sellers also continue to dominate.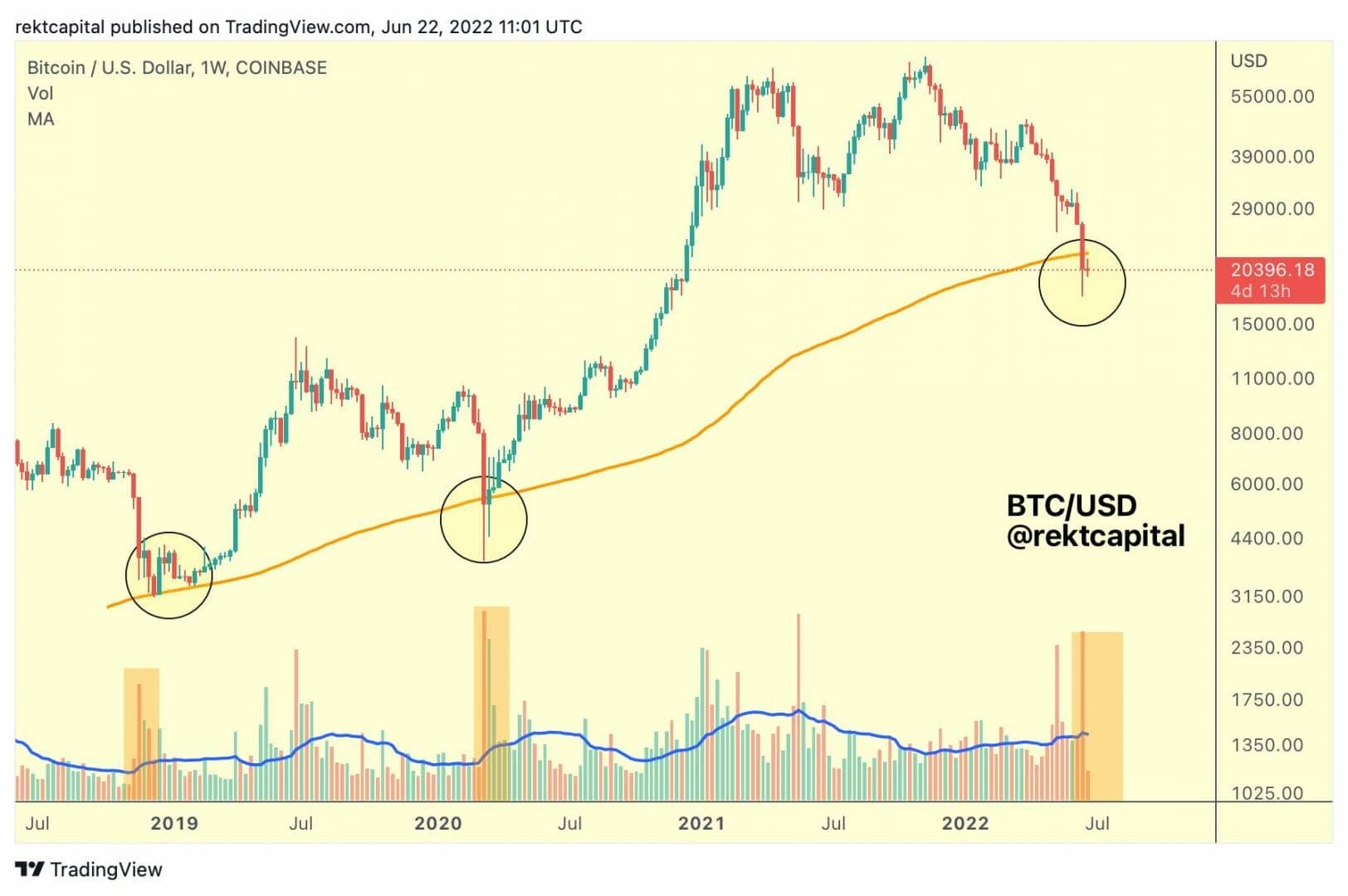 Given these analyses, which still give the bears as favorites in the very short term, what level of decline should the markets expect?
Rekt Capital had recently raised the possibility of a drop to $17,000, after Bitcoin price lost a log channel.
Whalemap analysts had shared a chart showing a possible floor price around $13,330.
The situation has certainly evolved since, on the BTC markets. But remaining cautious, this outlook would however indicate that the final price floor could always be situated in this area – wide – from $13,300 – $17,000.
Many analyzes thus converge on the need for another more significant decline, before a solid bullish recovery. The current losses would not be enough, even for the HODlers.
Is it possible to be gwinner every time? Whether the Bitcoin price is in great shape, or going through turbulence, Coin Trading offers you to increase your chances of success. Indeed, Coin Trading allows individuals to access a trading tool algorithmic and 100% automated. A real trend mechanism, this tool has been designed to adapt to market reversals and position itself on the most dynamic crypto assets of the moment.