Resilience – The price of Bitcoin (BTC) is erasing its losses following its recent fall below $20,000. In view of current events, are the bulls gaining strength?
This Bitcoin price analysis is brought to you in collaboration with the Coin Trading and its algorithmic trading solution finally accessible to individuals.
Bitcoin price at $20,000: and this recovery?
Bitcoin Price Not Only Reclaims $20,000, But Also Rises up to $21,030 today, June 23, 2022.
However, it failed to hold above $21,000. The first cryptocurrency trades at $20,760 at the time of writing this article. Its price is currently registering a daily gain of 4%.
The Bitcoin price will therefore have taken less than 24 hours to regain $20,000. A support around $19,700 also held up against pressure from the bears yesterday, June 22, 2022. Does this mean that the cryptocurrency has already bottomed out on June 18, 2022, dropping below $18,000? Is Bitcoin then preparing for a bullish rally?
Despite these encouraging signs, the trader Rekt Capital insists once again on the weakness of volumes. He points out that the volume of Bitcoin buying after the strong selling volume of last week " is still very weak as the end of this week approaches.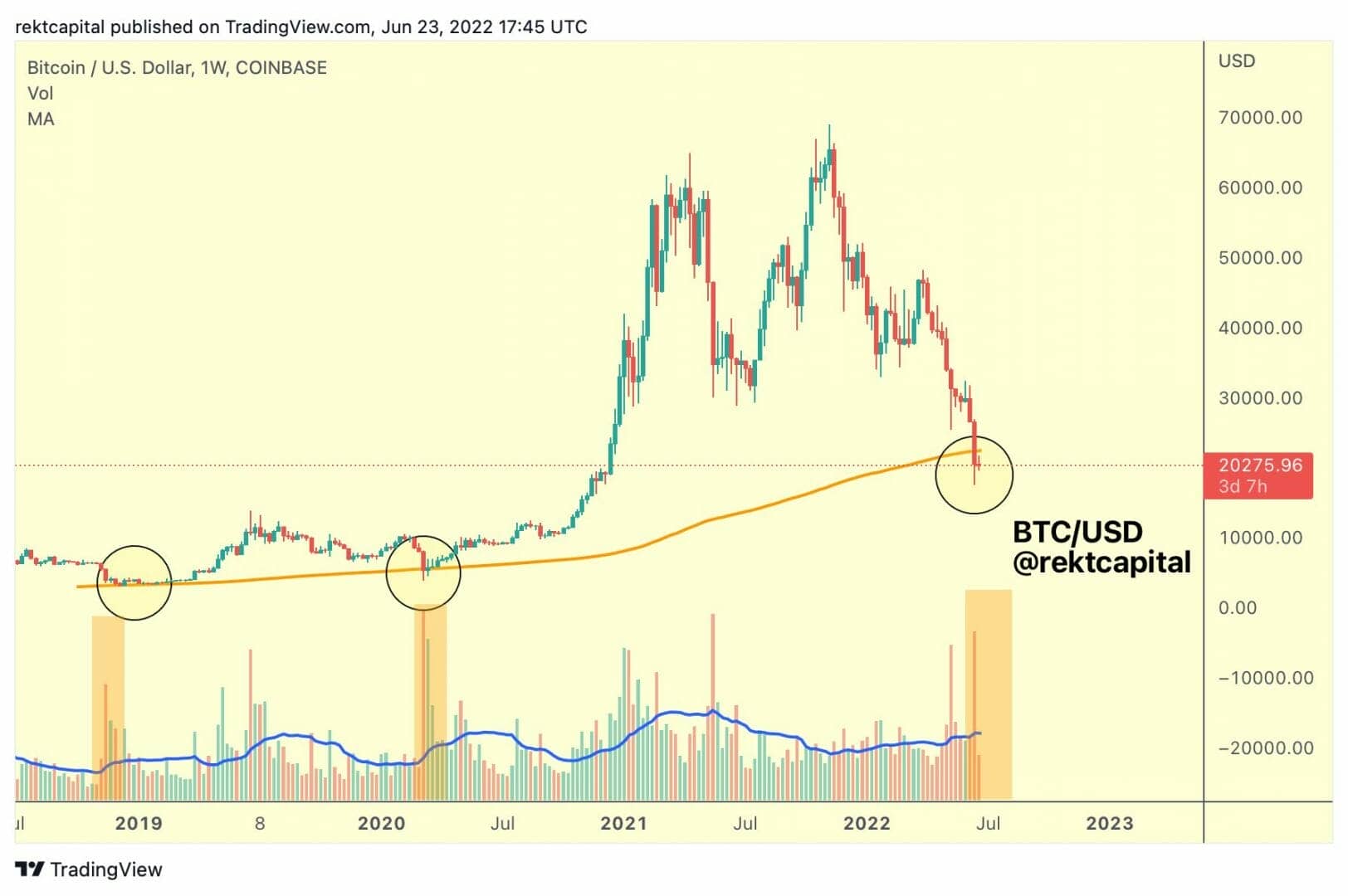 This volume of Bitcoin buying would still be well below the volume seen in previous bear market lows. These lows then formed around the 200-week simple moving average.
As this volume of purchases is below averagethe probability of a rise is then as much, according to Rekt Capital.
Risky assets: relief on inflation?
In the absence of certainty on the achievement of a floor price, the markets could welcome the recent remarks of the chairman of the American Federal Reserve (FED), Jerome Powell.
The latter indeed indicated that the institution did not intend to cancel completely its asset purchases during the pandemic.
In terms of numbers, the Fed only plans to reduce its balance sheet that up to $3 trillion in assets. However, it had made purchases of around $9 trillion in assets during the pandemic.
Despite the expected rise in interest rates, this news about monetary tightening suggests that inflation will not return to pre-covid levels.
Such perspectives should logically relieve risky assets since the beginning of 2022 have been under downward pressure due to the FED's measures to stem inflation.
Caution invites traders and investors for the moment to expect further lows for the price of Bitcoin. Other factors exogenous to the markets, such as the difficulties encountered by another major crypto player, can indeed greatly benefit the bears.
Is it possible to be gwinner every time? Whether the Bitcoin price is in great shape, or going through turbulence, Coin Trading offers you to increase your chances of success. Indeed, Coin Trading allows individuals to access a trading tool algorithmic and 100% automated. A real trend mechanism, this tool has been designed to adapt to market reversals and position itself on the most dynamic crypto assets of the moment.