From failure to failure? Bitcoin (BTC) begins the third week of January 2022 with a bearish daily candlestick. Some traders and analysts are now expecting more interesting moves in the BTC markets in the coming days.
The daily course of bitcoin (BTC) is brought to you in collaboration with the Coin Trading and its algorithmic trading solution finally accessible to individuals.
Bitcoin and the Sideways Market: A Deadly Boredom Followed by an Impending Dip?
Bitcoin drops below $41,880 on Bitfinex today, January 17, 2022, before bouncing back and regaining $42,000. It is trading at $41,842 at the time of writing, and is currently in a daily loss of 2.65%.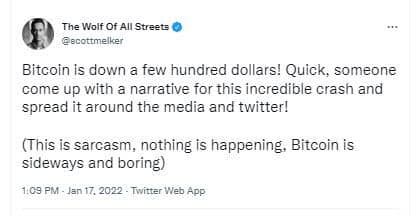 Markets continue to be quiet, and bitcoin follows a lateral movement for almost two weeks with its price generally moving in the $40,000-$44,000 area. Analyst TechDev pointed out in his tweet today, however, that bitcoin's trading price range is narrowing, "volume is compressing." He therefore expects more volatility "coming soon".
Can Bitcoin break out of this sideways market with a bullish jump? Laurent Kssis, expert in cryptocurrency exchange-traded funds (ETFs) and director of CEC Capital, doubts it. His skepticism is based in particular on the absence of renewed institutional interest in bitcoin at current levels.
A disappointing weekly close for bulls for bitcoin
Trader Rekt Capital reported that bitcoin failed to close out the week, above major support at the 50-week exponential moving average. This average is currently in the $44,000-$45,000 area.
In July 2021, bitcoin had already lost this support to recover it the following week and begin a bullish recovery. In 2022, however, bitcoin closes the week for the second time, below that critical support the bulls need to reclaim to claim the levels near $50,000.
The bulls are currently not recording any major wins to sustainably boost bitcoin. Analysts predict a return to volatility in the markets, but it currently seems more likely that bitcoin will exit this sideways market from the bottom rather than the top. The bulls, however, need to keep bitcoin price away from $34,000 at all costs to avoid a miner capitulation that could result in a test of $30,000.
Is it possible to be a winner every time? Whether the bitcoin price is in great shape, or going through turbulence, Coin Trading offers you to increase your chances of success. Indeed, Coin Trading allows individuals to access a trading tool algorithmic and 100% automated. A real trend mechanism, this tool was designed to adapt to market reversals and position itself on the most dynamic crypto assets of the moment.