The metaverse stronger than the bear market – It is clear that the enthusiasm for blockchain games and metaverses is growing. This observation is confirmed by the fundraising that continues in these areas, even as the crypto market appears to be in full swing. bear market. Indeed, two weeks ago, Immutable announced that it had a half a billion dollar fund dedicated to projects focusing on Web 3. This week, two other companies closed financing rounds in the same area.
Konvoy Ventures: a $150 million fund dedicated to games and Web 3
First, Konvoy Ventures is a venture capital firm created in 2017 based in Denver in the United States. On July 6, 2022, Konvoy Ventures published a press release to announce the creation of a $150 million investment fund called Konvoy Fund III. The latter will be interested in the projects of games that target web 3 and blockchain-based.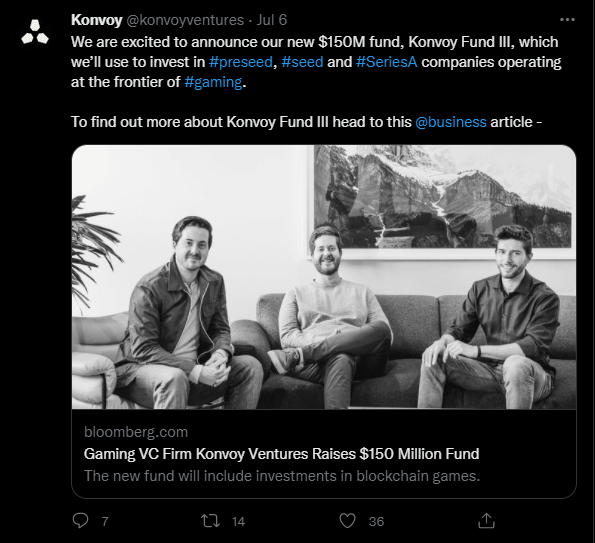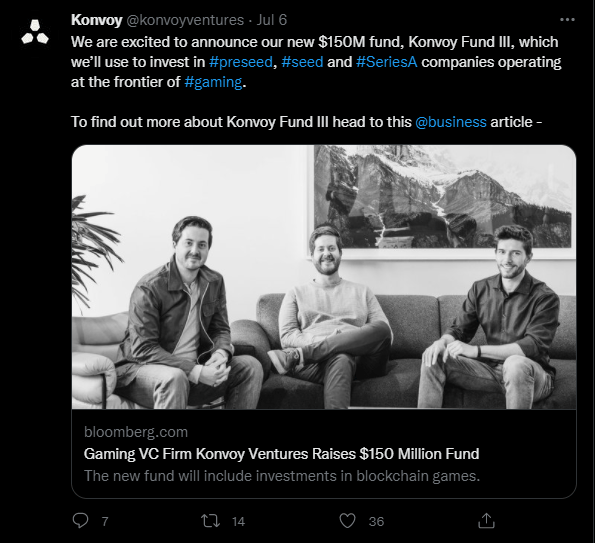 Since its inception 5 years ago, Konvoy Ventures has invested in 35 companies located in North America, Europe, the Middle East, Africa and Southeast Asia. In addition, thanks to this investment fund, the company will continue its international expansion focusing more on Asian (India, Japan, and South Korea) and South American markets.
"This new fund will allow us not only to focus on additional geographies, but also on new types of businesses and technologies. »
Konvoy Ventures currently has blockchain gaming Axie Infinity in his wallet. The company said it hopes to leverage the growth of the gaming industryand particularly those using blockchain technology.
Planetarium Labs: $32 million for blockchain games
Next, Planetarium Labs is a Singaporean company specializing in games based on new technologies and which fit into the dynamics of the Web 3. She has just closed a fundraiser in $32 million Series A. This funding round was led by blockchain gaming venture capital firm, Animoca Brands. In exchange, Animoca Brands will receive a seat on the infrastructure provider's board.
In addition, Planetarium Labs describes itself as a provider of infrastructures that allow the creation of Web 3 games. Moreover, the game Nine Chronicles is managed by Planetarium Labs.
"Instead of just adding tokens or non-fungible tokens (NFTs) to earn in games, we are reimagining community-driven content and providing powerful tools for studios to engage deeply with players and investors. . »
According to a statement from co-founder Kijun Seo to The Block, this funding round is Planetarium Labs' first-ever. Currently, 25 people work for Planetarium Labs and the workforce should be increased by 15 additional employees.
Venture capitalists are resisting the state of the cryptocurrency market, and one could even say they are doing very well for it. To be convinced of this, we must cite the example of Sequoia Capital China which announced the creation of 4 new funds to which 9 billion dollars will be allocated.
Despite the bear market, long-term investors are positioning themselves! Register without delay on the FTX reference crypto exchange platform. Benefit from a lifetime reduction on your trading fees (affiliate link, see conditions on official website).