A light speed disaster – Who would have thought that in just over 72 hours the project Terra would go from a flamboyant pedestal to absolute nothingness. Yet the UST stablecoin crash was so violent that, even among politicians, the news spread very quickly. Today, May 13, 2022, the LUNA token is however only one field of ruins without any value. Unless some sort of liquidation plan save crumbs?
The Terra blockchain officially shut down (again!)
After a first stop from the blockchain of Terra on May 12, the project teams once again announced the pause validations this Friday, May 13, around 4 a.m. (French time).
"The Terra blockchain has officially stopped at block 7607789. Terra validators have shut down the network in order to come up with a plan to rebuild it. »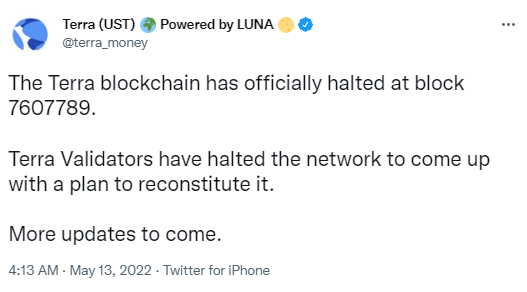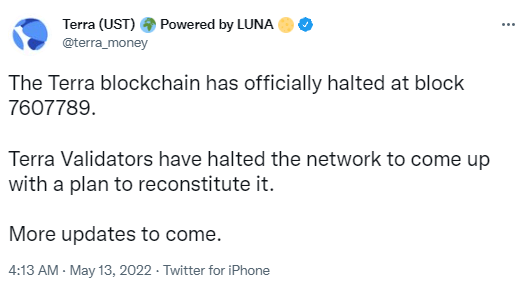 As for the price of LUNA, the chart below does not require comment. Still above the $60 on May 9, the native Terra token is now traded at $0.00001 at the time of this writing (May 13).
A Swiss fund to save what can still be saved?
In the midst of this total chaos, the Swiss asset manager AG Holding AG – with more than 90 billion euros in assets under management – hints at a potential exit door for the Terra project.
In a communicated press release published on May 12, the fund announces that it is currently in negotiation with the teams of Terraform Labs (originally from Terra).
GAM Holding wishes to support its stablecoin TerraUSD (UST), and would be willing to invest "between 2 and 3 billion dollars" for this rescue attempt which would aim to hook the UST to the 1 US dollar.
"Our interest in supporting UST reflects our interest in supporting a dynamic, innovative and resilient cryptocurrency market. (…) We firmly believe in the Terra ecosystem. (…) When investors have the right incentives, they naturally trade [l'UST] so as to maintain price stability. When black swan-like events affect markets, opportunities flourish. We see opportunities in recent events that have affected UST, and continue to see promise in Terra's broader strategy. »

Peter Sanderson, CEO of GAM Holding
Courage, faith, or madness? Everyone will judge this rescue act (desperate?) as he sees fit. Fortunately, despite a strong (but brief) panic in USDT from Tether this May 12, the crash of LUNA and UST does not seem to have led to other ricochets Cascade. For the moment.
PS: exactly 14 minutes before the scheduled release of this article, the Terra teams have just announced on Twitter the reboot of their blockchain. Either an interruption that will have lasted nearly 11:00.
LUNA is no more, but the crypto market is still here, and for a long time. It's never too late to get interested in Bitcoin and Ethereum! Don't wait any longer to prepare for the future by going to register on the Binance platform, THE absolute benchmark in the sector (affiliate link).